Today was the water 4 gas hho exposition. With a little more than a weeks notice I was able to polish up my water for gas powered blazer and attend the show. What a fantastic day it was, and a great learning experience. I was able to speak with a lot of like-minded people on the subject of generating hydrogen for improved fuel economy.
The turnout to the event was fairly light due to the recent falling of fuel prices. There were about 1500 people in attendance. Everybody I spoke with agreed that this recent pullback in gas prices is more than likely a temporary situation. This is the main reason that the event continued as planned.
The water4gas convention was held at the Manatee County public Fairgrounds in Palmetto Florida. This was extremely convenient for me because I live only about a half hour south of this location.
It was also great to see our county commissioners attend the event, along with Bay news nine Summer Smith. She is standing with her cammera man in front of an hho powered jet dragster.
Water for gas inventor
To me the highlight of the day was a short conversation with the water for gas founder Ozzie Freedom. There is no question that Ozzie is dedicated to improving the on-demand hydrogen systems. Mr. freedom drove his water for gas powered Volkswagen Jetta from California to southern Florida to attend this event. Ozzy's Jetta is a rolling advertisement for his website.
The interesting thing is the side of his car says that he gets 60 miles per gallon with this vehicle. During our short conversation when he showed me his improved system. He stated that his trip from California yielded 73 miles per gallon. So he sold himself short, when he put 60 mpg on the side of his car. Keep in mind that this Jetta is diesel powered and gets close to 48 miles per gallon without any improvements installed.
As a member of the water 4 gas website. I asked Ozzie about the recent improvements to the members area. He stated that this was just the beginning and that all members should expect a completely revamped website, along with a new HHO forum as well as a certified marketplace to purchase either a complete water4gas kit or individual components.
You can visit Ozzy's new water for gas website here. Also continue on to read the rest of this post to see more pictures from the hho games.
I was hanging out with my Blazer and talking to people who were interested in the test system I have installed. Some of the visitors pointed out that I should take a look at some of the advanced systems that were being displayed throughout the fair. So I locked up my truck and I took a walk with my digital camera.
Using Water 4 Gas
There are some amazing hho generating systems available on the marketplace today. Some of these systems are high tech and capable of producing large amounts of hydrogen fuel to be mixed with your air intake charge. Looking at these systems it's hard not to believe that large increases in fuel economy are very possible.
In fact, there was an H2 Hummer with a giant hydrogen generator installed. The owner of vehicle states that he receives 70 miles per gallon on the highway. This would be extremely hard to believe unless you saw the way the system was installed.
The drawback to his on demand hydrogen system that is pulse width modulated, Is that the cost of the complete kit ready to install was over $1500. Just as interesting as this high tech system I saw several basic water for gas six-pack systems. This is where you connect six standard size hydrogen generators together in series and collect the hydrogen gas produced to be fed into your air intake system.
The gentleman I spoke with, that had a nice compact six-pack generator installed stated he doubled his miles per gallon on his 1994 Saturn, which is now receiving just shy of 50 miles per gallon. He has less than $200 dollars invested in parts.
The water for gas exposition was very exciting. And I took lots of pictures. I will be posting more stories and images from the water for gas convention so stop back and visit me soon. Or you can visit the inventor of the water for gas movement website right here.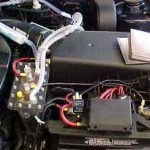 Lets keep the conversation going. Leave your comments and thoughts both positive and negative at the bottom of this post. Maybe our resident chemist Bob will stop by to rejoin the water4gas debate.